A Salty Sour Spicy Pickle Lover's Guide
Pickle lovers know that nothing can top the flavors or crunch of the perfect dill treat. Indeed, if you've been craving salty-sour satisfaction, there's nothing better than a crispy crunchy pickle! Better yet, a famously spicy and savory Van Holten's Hot Mama Pickle!
So what makes these snacks so satisfying, are they really as good as people claim? We'll explore all of this and more in our Hot Mama Pickle guide! That way, the next time you bite into one of these crave-worthy pickles, you'll know what you're getting yourself into!
Everything to Know About the Hot Mama Pickle
Made using high-quality seasonings, a secret brine recipe, and the perfect balance of spicy flavors, Hot Mama Pickles masterfully balance quality and taste. Sour, Tangy, and Hot, these pickles are indeed one of Van Holten's most popular products!
Also, Hot mama pickles are great for anyone who loves salty and spicy pickles with a tad of sour satisfaction. These pickles are extra-large making them a perfect anytime snack! Often, you'll find Hot Mama Pickles in smaller convenience stores; however, we have 'em right here in our online candy store! 
Savor an Amazing Taste 
With a balanced recipe of hot spices, sour brine, and salty seasonings, these pickles are wonderful for those with specific pickle cravings. In fact, many enthusiasts of Van Holten's brand pickles will swear by the Hot Mama. Therefore, if you've been looking for distinctive signature spicy flavors like nothing else, this is a great pickle to try!
Get Gluten-Free Guilt-Free Satisfaction
Every single Hot Mama Pickle is entirely gluten-free. So, whether you are trying to cut back on carbohydrates or simply are gluten intolerant, these pickles are a perfect snack. They use a limited list of high-quality ingredients for a wholesome crunch every time! These delicious pickles are also 100% fat-free.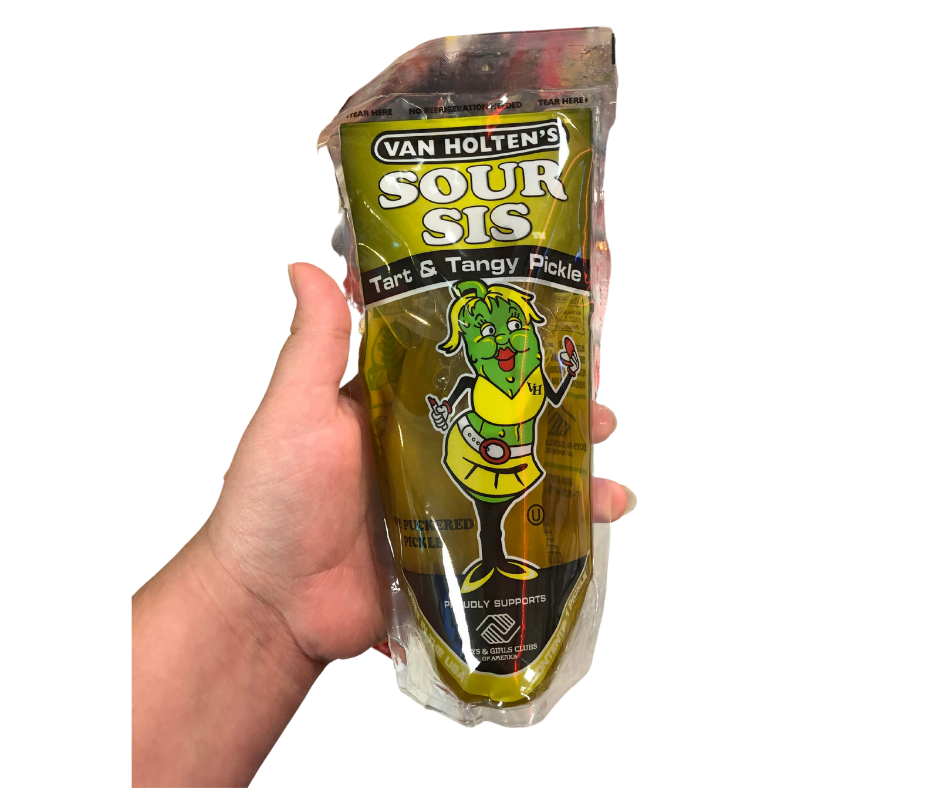 A Healthy and Wholesome Low-Calorie Snack 
In addition to the fact that Hot Mama pickles are entirely gluten-free, they are also low in calories. So low, in fact, that these pickles hardly contain any calories at all! Indeed, you could snack on Hot Mama pickles all day long without ruining your diet. Pickles are one of the most healthy calorie-free snacks! In addition to this, these pickles are loaded with natural electrolytes.
Portable Pickles for Any Occasion
Moreover, Hot mama pickles come in convenient and easy-to-carry pouches. This makes them perfect for sack lunches, snacks on the go, or eating in the car! Then, each pickle also contains plenty of juice so that you will get a crisp, juicy, and mouth-watering bite every time.
No Refrigeration Needed
Another wonderful thing about Van Holten's Hot Mama pickles is that they require no refrigeration at all. As such, you can keep these pickles in your pantry, in your lunch box, or anywhere else! They also have an extremely long shelf-life, making them a great option for those who don't want to worry about pesky expiration dates.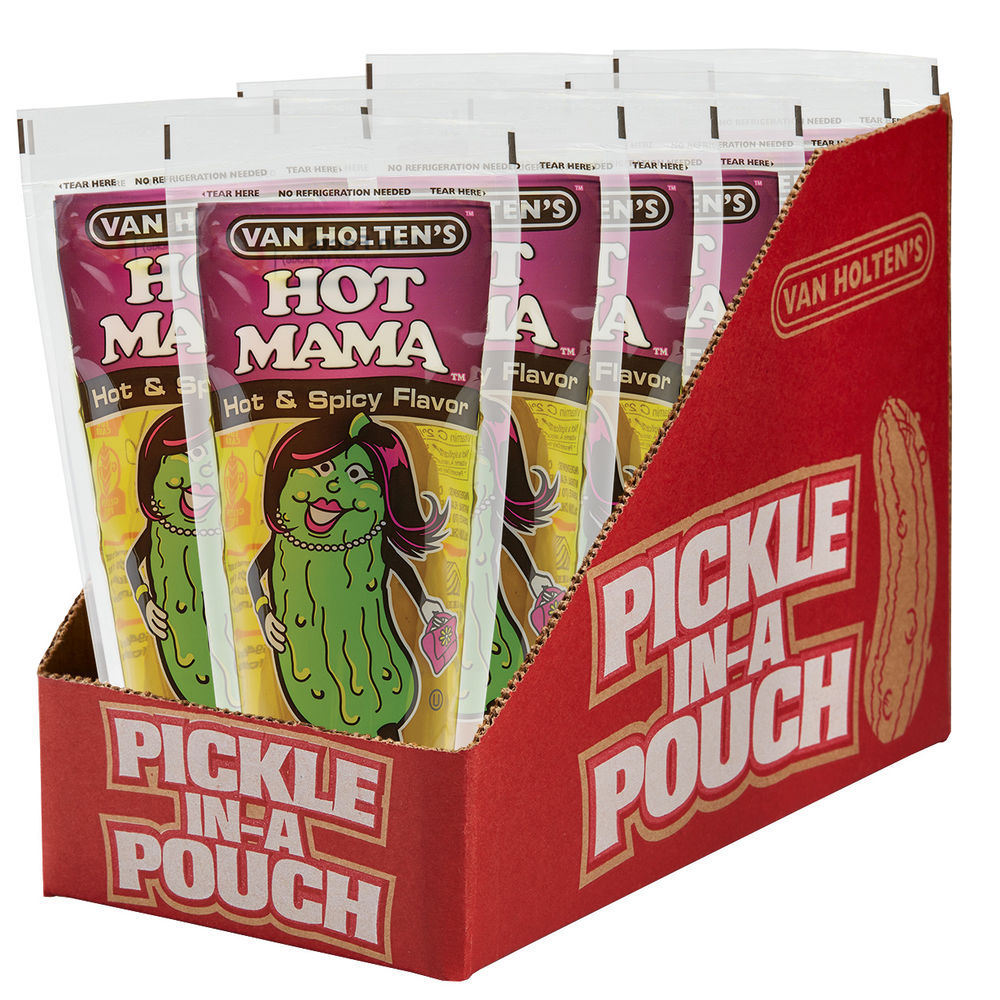 Order Hot Mama Pickles Right Here
Are you ready to give these spicy sour pickles a try? If so, you can easily order them right here by clicking this link! We offer fresh and flavorful Hot Mama pickles for sale at discount bright prices in bulk! Plus, we offer fast shipping so your pickles will arrive at your front door before you know it. 

Also, keep in mind, in addition to offering America's favorite Pickle In a Pouch brand; we also offer an unlimited supply of other snack and candy products. We carry all major brands from Hershey, Mars, Ferrara Candy, Cheez-it, and so many others! Indeed, we carry chips, nuts, candy, crackers, dried fruit, and everything else that's awesome and delicious! So please keep that in mind if you decide to buy your favorite pickle brands here Candy Retailer! Thanks for reading!