Best Selling Electric Cigarette Rolling Machines
Premium rolling machines that can save you time, energy, and money!
There's nothing like smoking a customized hand-crafted cigarette. Not to mention, making your own smokes from home gives you access to various tobacco blends, cigarette tubes, and electric cigarette rolling machines! So if you're looking to scale back and save more, then read below to discover you can make this happen! 
With that said, if you're new to crafting your own smokes and don't know where to begin, then please know, that we're here to help! On that note, we've put together a Top 3 List of the best-performing electric cigarette rolling machines, that way you can eliminate all the guesswork!
After all, there are several brands, makes, and models on the market today, but only a few are worthy and have withstood the test of time, that's where this article comes into play, as you're about to see!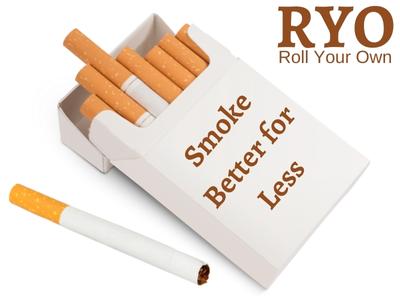 Why Purchase a Cigarette Rolling Machine?
First and foremost, when you purchase an electric roll-your-own tobacco machine not only will you save time and money, but you'll also enhance your smoking experience to an entirely new level of custom pleasure.
Plus, having your own cigarette rolling machine at home allows you to smoke cleaner, fresher tobacco! Nowadays, it's all about quality; therefore, smoking premium RYO tobacco is the best way to go, especially if saving money and smoking better tobacco appeal to you! 
Furthermore, buying an electric cigarette rolling machine will pay for itself! In fact, all of the machines mentioned below in this article will pay for themselves within just a couple of weeks, if not less!
So as you can see, producing your own smokes from home is a win-win, regardless of how you slice it, dice it, or smoke it, guaranteed. Now with that out of the way, let's put some instant money back into your pockets where it belongs!
Top 3 Best Selling Electric Rolling Machines Available
As promised, here are three of the absolute best options for electric cigarette rolling machines currently on the market! All three options boast various impressive features and easy-to-use design elements. Let's dive in, shall we?!
1. The Powermatic III Plus Electric Cigarette Machine (BEST-SELLER)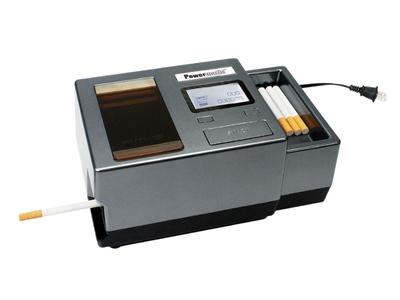 The Powermatic III Electric Cigarette Machine is by far our top pick for rolling machines! It's our absolute favorite option for a few reasons. Not only does it come at a great overall value, but it's also easy to use, reliable, and very fast. You can effortlessly use this machine to roll out an entire carton of cigarettes quickly and easily, even if you're new to cigarette rolling!
Other impressive features include a highly efficient and enhanced motor, stainless steel mechanical components, a jam-resistant design, flexibility for 100mm and king-size cigarettes, and various cleaning accessories and tools. It even comes with a 1-year manufacturer warranty.
Powermatic III Plus Highlights:
• Top Pick for 2021
• Rolls Cigarettes in Two Sizes – Kings & 100s
• Quick and Efficient
• Easy to Use
• Reliable Design
• Great Overall Value
• Warranty and Accessories Included
• Jam Resistant
• Extended Hopper
Click Here To Purchase The Powermatic III Today
2. The Top O Matic Poweroll 2 Electric Cigarette Machine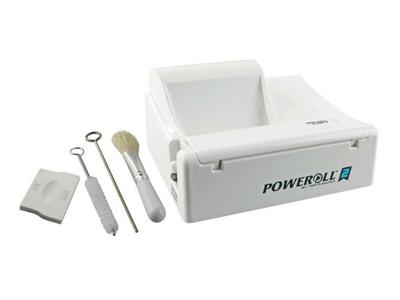 The Top O Matic Poweroll 2 Electric Rolling Machine allows you to take cigarette rolling to new levels. This device is well worth the investment for a variety of reasons.
First, it creates well-packed and uniform cigarettes in seconds and has a one-touch functional design that lets you make cigarettes in 100mm and king-size. Plus, it also has a great safety guard and comes with cleaning tools and accessories. 
For anyone who's serious about making their own cigarettes on a consistent basis, this is a fantastic option to consider. Also, this machine is sleek, durable, light-weight, and of course, reliable. So as you can see, when it comes to superior craftsmanship and ingenuity, the Top O Matic Poweroll 2 is a top contender in both categories!
Top O Matic Poweroll 2 Highlights:
• Rolls Cigarettes in Two Sizes
• Affordability
• Quick and Efficient
• Easy to Use
• Good for Bulk Rolling
• Accessories Included
• Sturdy & Reliable
• Sleek & Light-Weight
Click Here To Own The Poweroll 2 Rolling Machine Today
3. The Powermatic II Electric Cigarette Machine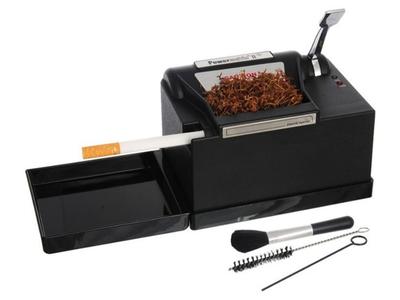 Another impressive option is the Powermatic II. Indeed, this machine is just as kickass as the Powermatic III but cheaper! In fact, the PM2 features everything the PM3 offers except the extended hopper.
Also, it's slightly bigger, which is great if you only plan to make cigarettes from home! Not to mention, the P2 is an all-time top-seller and has been for several years, for good reasons too!

In terms of quality, simplicity, durability, longevity, and affordability, the PM2 holds it down in all five categories! But then again, don't take it just from us, try it out for yourself and experience the difference first-hand.
Powermatic II Highlights:
• Rolls Cigarettes Easily
• Quick and Efficient
• Accessories Included
• Durable
• Long-Lasting
• Affordable
• Easy to Use
• Made from High-Quality Parts
Click Here To Buy The Powermatic II Today
Time To Get Rolling
So there you have it. These are the top three absolute best-selling electronic cigarette rolling machines currently on the market. Strapped with the information we just provided, you shouldn't have any issues selecting the perfect machine that'll instantly save you time and money!
Best of all, to secure one of the awesome cigarette machines, you won't even have to leave our website! That's right' all you have to do is CLICK HERE, and we'll conveniently redirect you to our product page where you can find the best machines at the best prices!
Lastly, if you're still having trouble selecting the best RYO Machines, then please don't hesitate to reach out to us directly, we'd be more than willing to help you pick out the best product for your smoking needs.